If you spent a few minutes with Dana Rader, who passed away on Wednesday, August 17 at age 64, you knew she was special. One of those rare people – some would say 'one in million' – who made a lasting impression on everyone she met.
At six feet tall with a commanding presence, she had an easy smile, quick wit and a disarming, down-home touch.
Dana grew up in Morganton, NC – a town of about 15,000 people some 75 miles northwest of Charlotte. Morganton could be any small town in America, the type of community that honored its veterans, valued hard work and where your word was your bond. It was there that Laura and Vernon Rader raised a family while running Rader's Grocery. Dana's Dad had a tremendous influence on her life. He was the first person to introduce her to golf, but she was more interested in motorcycles and basketball. She rediscovered the game in high school, developed quickly, and was recruited to Pfeiffer University as a two-sport athlete, where she played basketball and earned the second position on the men's golf team.
After college, Dana took a run at the LPGA tour, but it wasn't for her. Dana tells the story of approaching the tee at Q School and feeling sick to her stomach. She loved golf, but not playing on tour. That's when she shifted her focus to teaching the game.
Learning from the best
Having made the decision to become a golf professional, she learned from the best in the business, including Peggy Kirk Bell, LPGA Founder Shirley Spork, Ellen Griffin, Nancy Lopez, and countless others. She was a student at heart: a meticulous note taker, endlessly curious, an excellent listener and keenly observant.
She began her career in golf in 1980 and spent over 35 years building her business in the Charlotte area. We met for the first time in 1990, when she started the Dana Rader Golf School at Raintree Country Club. To call it a golf school was a stretch. Dana hired Julie Cole as Director of Instruction, and they taught under the scorching sun on the back of the Raintree range.
Our lesson was at the end of a wilting summer day, yet she greeted me like a long-lost friend. Our first lesson was a conversation. She wanted to get to know me, to understand my goals – in life and in golf - and to find the communications style where we could connect. That was trademark Dana Rader.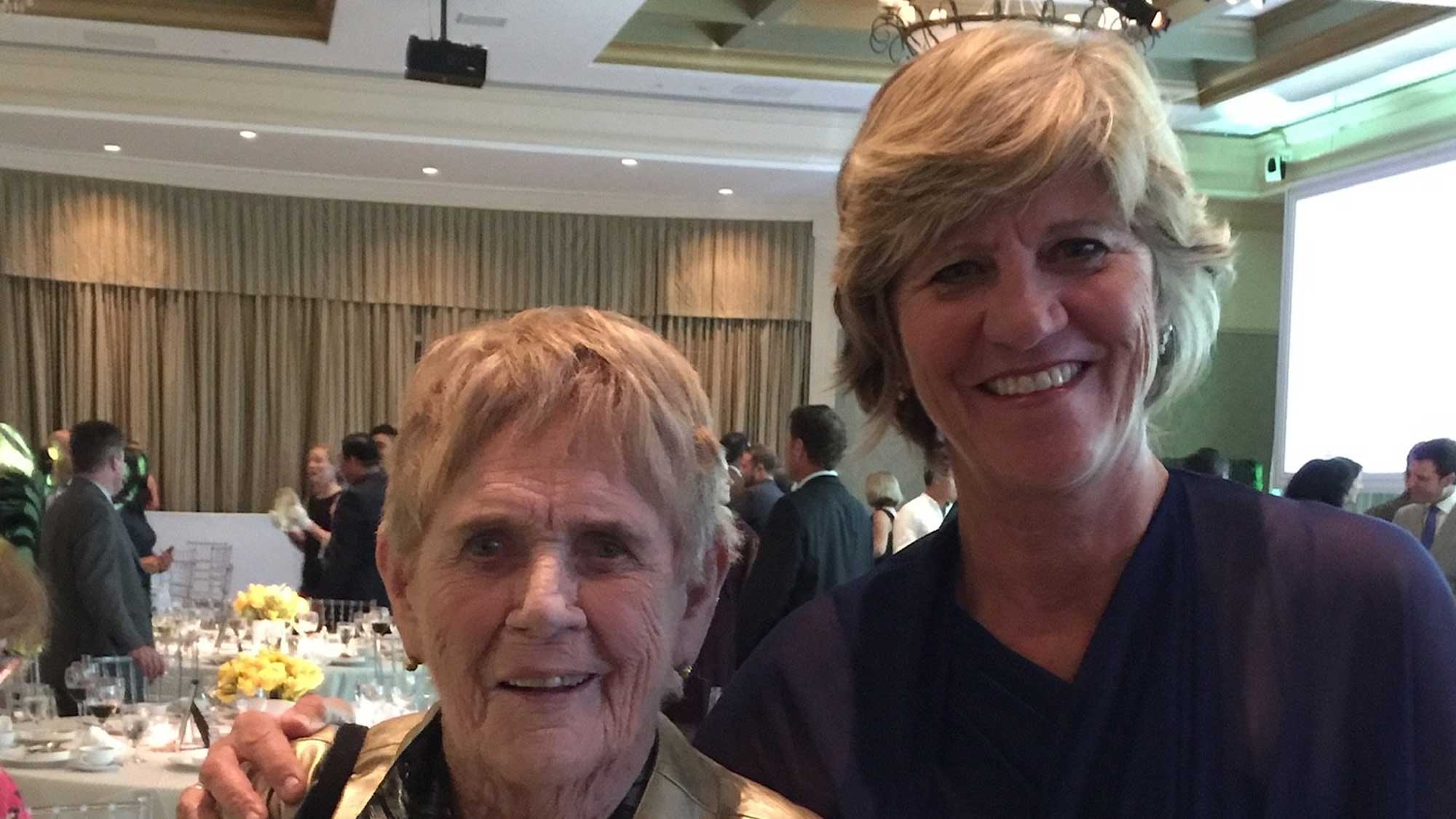 Dana Rader Golf School at Ballantyne
Fast forward a few years and Charlotte was a booming business town. Ballantyne Corporate Center emerged from 2000 acres of hunting grounds and hardwoods on the south side of town. It was an audacious development plan with a four-diamond resort and golf course as its centerpiece. In 1997, Ballantyne became home to the Dana Rader Golf School. What started as a small business at the end of a driving range grew to one of the top golf schools in the country, with a team of nine instructors reaching about 17,000 students a year. Dana added entrepreneur, owner, team builder, marketer and spokesperson to her responsibilities and skills.
Service and Leadership
Dana also built her career through service to others and leadership of the LPGA. She earned her Class A status in 1984 and Master Professional in 2013. She was named LPGA National Teacher of the Year in 1990. And she was a regular on the various "Top Teachers" lists by Golf Digest, GOLF Magazine and Golf for Women. She was part of the Golf Channel Academy and contributed commentary, tips and insight to several golf media. She wrote a book, Rock Solid Golf, about her approach to the game.
After serving on various committees of the LPGA Teaching & Club Professionals (T&CP, now Professionals), she was elected National President from 2010-2015. During that period, LPGA T&CP membership increased from 1,100 to 1,700 and the T&CP expanded its educational programs to South Korea.
Additionally, Dana worked to develop a culture of support and sharing within the T&CP. She was inspired by learning from other T&CP members and always generous with sharing her experience with others.
As T&CP President, Dana had a seat on the LPGA Board of Directors. It was there that she worked closely with Commissioner Mike Whan, whose leadership she deeply admired. Together they strengthened the relationship between the Tour and T&CP and their complementary roles in creating opportunities for women in golf.
For her leadership and service, in 2015, Dana was awarded the LPGA's highest honor for teaching professionals, the Ellen Griffin Award. She was inducted into the LPGA T&CP Hall of Fame and in 2022 she received the Nancy Lopez Golf Achievement Award, recognizing the teaching professional who best emulates Nancy's qualities of leadership, passion, giving and approachability.
Dana had a special interest in engaging more women in golf and she advised club manufacturers and others in the industry on making golf more inclusive. She served on the staff of Square Two Golf, Nancy Lopez Golf, and was the first woman to serve on Nike's Advisory Board.
In Charlotte, Dana became recognized as much for her business and community leadership as for her golf. She served the United Way of the Central Carolinas, the Charlotte Chamber, First Tee of Charlotte and Pfeiffer University to name a few. Among her many honors and awards, she was named Charlotte Businesswoman of the Year in 2003.
Sassy, Authentic, Committed, Fun
Those are just some of the words people use to describe Dana. I hear she did a great Michael Jackson impersonation. I know she loved a good Chardonnay. She was 'comfortable in her own skin.' And she liked to have fun. In Charlotte, she was mentored by some of the most successful business leaders in town. One of her mentors, a self-described "terrible golfer', enrolled in one of her schools. As the day was winding down, he asked Dana what he could do to support her business. With a wry smile she said, "With that golf swing, please don't tell anyone you came to one of my schools."
Back on the Lesson Tee – in a special community
Having built a strong business and community in Charlotte, Dana's plan was to finish her career there. Until the plan changed.
Ballantyne had become a resounding success. In 2017, the property was sold to new owners with their own vision and priorities. The golf course and Dana's golf school sat on valuable real estate and would be redeveloped into a more urban, mixed-use community.
Dana's first concern was to ensure her staff had a plan forward. Then she thought about her own future. She and Amy had always loved the Hilton Head area, so they advanced their plans and moved to the area in 2017. Dana returned to her first love: teaching golf, first at the Sea Pines Resort and since August of 2018, as Director of Instruction at the Belfair community in Bluffton, SC. Belfair was the perfect community for Dana and she was immediately embraced and beloved by the members.
Honoring Dana
My friendship with Dana began over 30 years ago on a lesson tee. As our careers progressed, we saw each other more in Board Rooms than on the golf course. It took us to Pine Needles and her beloved NC Mountains; through decades in Charlotte and years of service to the LPGA. And even these past few years, as neighbors in the SC low country. We were honest brokers with each other - cheering each other's successes and comforting one another in our losses.
One of those cheering moments: I was in the audience when Dana received the Ellen Griffin Award in 2015. It was at the Rolex Awards, the best night of the year for the LPGA. Dana dedicated the award to her father:
"My father is 90 years old and living in an Alzheimer's care facility. He served as a WWII veteran and was a Prisoner of War for nine months at the tender age of 18. He taught me three things: 1) leave things better than you found them; 2) develop a great work ethic; and 3) do the little things to get the big things.
"I wish my father could be here tonight. He always said, 'Dana, I'm proud of you. I always wanted you to play on the LPGA Tour but I'm proud that you're an outstanding teacher and I love you very much.' I love you, Dad. Someday, we'll have a good conversation in heaven."
None of us thought that Dana would leave us this soon or this way.
The disease that took Dana, Creutzfeldt-Jakob Disease, is extraordinarily rare. Literally, it affects one in a million.
The outpouring of love, support and fond memories on Dana's CaringBridge site these past few weeks are a testament to the many, many lives she touched.
Building a business is gratifying; awards and honors are flattering. But touching a life in a real and lasting way is invaluable. That was Dana Rader's gift. She really was one in a million.