PAST, PRESENT AND FUTURE OF THE LPGA TAKE CENTER STAGE
Amy Alcott, Sandy LaBauve and Susie Maxwell Berning are being honored this week at the Bank of Hope Founders Cup as the LPGA's 'Pioneers' of 2018, a tribute to their trailblazing spirit as well as their exemplary participation in the development and advancement of the LPGA Tour and women's golf.
Each year, the Founders Cup returns to Phoenix to celebrate the LPGA's past, present and future. The tournament at Wildfire Golf Club honors the 13 Founders of the LPGA, provides a stage for the best players of today from all over the world to showcase their talents and 'plays it forward' to the future of the game by raising money to benefit the LPGA-USGA Girls Golf program.
The event also celebrates the 'pioneering' women who continued the efforts of the LPGA Founders to maintain the momentum and growth of the tour. With Alcott, LaBauve and Maxwell Berning being honored as Pioneers this week, please see below for some of their amazing accomplishments and contributions to the LPGA.
For more information on the 2018 Pioneers, visit: http://bit.ly/2FGLSFy
The three surviving LPGA Founders – Marilynn Smith, Shirley Spork and Marlene Hagge Vossler – are in attendance this week, and will be on the 18th green on the "Founders Perch" to greet players as they finish their rounds Thursday-Sunday. Some of the top LPGA talent of today's generation commented on how special the Bank of Hope Founders Cup is to them and how great it is to be able to pay tribute to the founders.
Michelle Wie, World No. 14:
"I think the fact that we have a tournament honoring our founders is so amazing. Those founders, they sacrificed so much that I could be here up on stage. Just growing the game. Definitely without them I would not have been a professional women's golfer, so we owe everything to them."
Jessica Korda, World No. 11:
"You know, walking off 18 and all of our legends, the women that have built this tour, are there watching us play and genuinely excited to see us and we are genuinely excited to see them. It's just great. I love the history of this tournament. I love everything is stands for. Even where we've worked out way from day one to where we are now, it's just really special to see."
Paula Creamer, World No. 146:
"It's just incredibly special to walk up on 18 and see those women there. Not only that, but all the young girls that are coming out. It's pretty neat to see. You've got the veterans and everybody there, and then you have the young LPGA-USGA Girls Golf coming out and watching, too. Just the tradition behind it all and the meaning of why we're here, it's so special for women."
FRESH CHALLENGE, AND SOME APPREHENSION, FOR MICHAELS ON LPGA TOUR RETURN
Sydnee Michaels is a little apprehensive about her return to the LPGA Tour this week, having been sidelined for the best part of a year by a back injury and then the birth of her daughter Isla, but she is doing her level best to avoid setting herself any expectations about her form at Wildfire Golf Club.
"I've never had this long of a break," she smiled after playing in the pro-am competition on the eve of the opening round. "This will be my seventh season out on Tour but I've never taken a whole year off. Before I got pregnant, I herniated a disc in my back so that's really been my main concern. I was really lucky I had an easy pregnancy so I'm just trying to manage my back and do preventative work with working out, stretching and a good warm-up routine. I've also altered my swing so that's been my main focus coming back, just to be as healthy as I can."
Michaels, who will be competing in the next three events on the LPGA Tour and intends to play "a decently full schedule" this season, is excited about being on the road with her four-month-old daughter.
"It's amazing," said the UCLA alumna. "This week has been a little stressful just trying to schedule when do I take her to day care, and trying to juggle all of her luggage on top of my luggage. I've got a Pack 'n Play stroller, a car seat, diapers, just everything so that's difficult and also she's not sleeping very well yet. But, as all new parents know, you learn to function on no sleep, so I think I will be okay."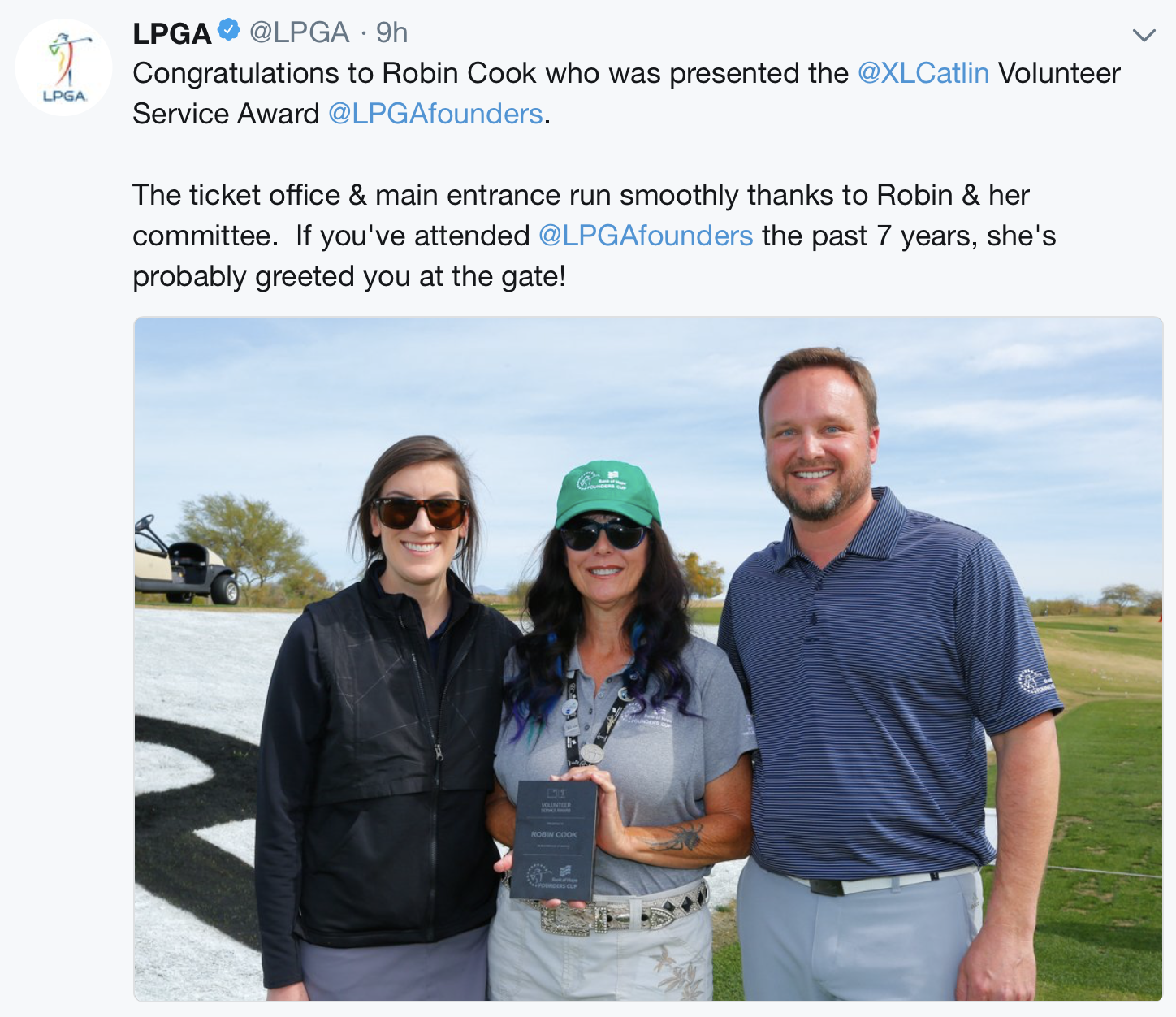 ROBIN COOK NAMED AWARD RECIPIENT FOR LPGA'S XL CATLIN VOLUNTEER SERVICE AWARD
A new program launched in 2018 to recognize exemplary volunteers at each LPGA tournament. Currently in her eighth year as a volunteer at the Bank of Hope Founders Cup, Robin Cook was nominated by tournament representatives and will be presented with a service award plaque during tournament week, March 15-18.
In addition, Cook will join other tournament volunteers nominated throughout the year for a season-ending random drawing that will award a donation of $10,000 in the winning nominee's name to the charity of the tournament for which the volunteer serves. The tournament charity for the Bank of Hope Founders Cup is LPGA*USGA Girls Golf.
For more information on the XL Catlin Volunteer Service Award, visit http://www.lpga.com/tournaments/xl-catlin-lpga-volunteer-service-award